For a while now, I have been doing weekly banner updates.
I update the banner, or forum header if you want to call it that, every Sunday.
I also update the banner for someone's birthday, if that person is active and still comes here.
Most of the newer members obviously haven't seen all the banners, since I change them weekly.
So I'll post all of the banners I have made here, in case they want to see them.
Its quite safe to say that this was the most obscure banner ever, also the worst.
This was the first banner for SW. I was new at this, so of course it wasn't all that good.
The second banner for SW. It was a pretty clever idea, in my opinion, but quickly grew old.
Not much to say about this one.
The beginning of the weekly banners. The weekly banners go across the different zones of the following Sonic games: Sonic 1, 2, 3&K, CD, Advance, Advance 2, Advance 3, Knuckles Chaotix.
The first zone to start in is obviously Green Hill Zone.
Cream appeared in every banner after this one, with the exception of one banner that I'll talk about later.
I think it was a mistake to have Sonic's head blocked out.
This is when I started putting my signature in the banners. I presented myself as an old Kirby fancharacter of mine, Flare, even though this is a Sonic fansite. I no longer put my signature in my banners, though.
I still like this banner a whole lot, mostly Sonic's position.
The first time a fan character appeared in the weekly banners. Now days, FCs don't appear in banners.
Shadow and Eggman's first appearance.
The first birthday banner. The text is hard to read, and the banner itself looks a little bit choppy.
Its wishing Angelwings and Star, two members who hardly come here anymore, happy birthday, if you can't read it. They still liked it.
Remember when I said that the first banner was the worst? Well, this is the second worst.
Not only is the banner tiny, but I forgot to add Cream. Not much is really going on in this banner,
and I got pretty bored of it. Oh well. Whats done is done.
The first Sonic CD banner. The banner has a slight..empty feeling to it, but it was enjoyable for most people.
Yeah, we're moving on to the better ones now. This was one of my favorite banners.
Something about it amuses me greatly. I think its Tails' little celebration in the corner.
Ah, good ol' Chemical Plant Zone. Not much to say about this one.
Another one of my favorites, and Motobug's first appearance.
Nowdays, Motobug is part of the main cast.
No comment.
One of the best banners, in my opinion. This is the first, and so far the only appearance of Big the Cat.
I'll give you a cookie if you can guess what zone that dragon/dinosaur looking guy is from.
Umm..I guess you can call this a direct sequel to the other banners. Sonic just noticed the camera.
Another birthday banner. You can actually read the text this time.
I guess this is also a direct sequel to the one before(not the birthday banner).
Yet another birthday banner. This one is celebrating Snow Goddess' birthday, hence why its in a snowy place.
And if you look real close, Shadow is there.
Yeah, thats two birthday banners in a row. Snow Goddess' birthday was on the same day as Sykog77's.
both of their birthdays were on Monday, but SG was celebrating her birthday on Sunday, which was Banner day,
so the real new banner had to get booted to Monday. Then I remembered Sykog77's birthday, so the real new banner came on Tuesday! Talk about a stretch!
..Speaking of Stretch, Sykog's fancharacter Stretch the Monkey appears here, 'cause its his birthday.
one of my favorites. I must say, I'm surprised Motobug wasn't lurking around here.
Now that the site cleanup was done, we can all relax. So I made a relaxing banner.
Nothing more relaxing then watching the sunset.
is it just me, or are there..two suns?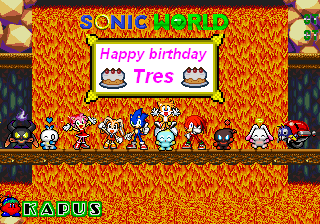 New birthday banner design for Tres' birthday. Most, if not all of the birthday banners will look
like this now.
Not too much to say about this one, except for the fact that Buzz Bomber
weaseled his way into the text, "Sonic World"
Can't go wrong with Music Plant when it comes to a birthday banner.
Something about this banner seems rather unique. I can't place my finger on it, though..
This has got to be one of my favorite banners. Well, favorite birthday banners that is.
In case you hadn't noticed, this is Spring Yard Zone for Superlightning's birthday.
I didn't like Ocean Base Zone, but I like this banner.
Mostly the position Tails is in.
One of the bigger banners. I can't believe I didn't do Emerald Hill yet.
Secret Base from Sonic Advance.
Yes, Motobug is trying to kill Cream
Yes, Tails broke a street light. How? That is beyond me.
The final appearance of my signature in the banners.
The water in Labyrinth Zone looks gross, doesn't it?
This banner reminds me of another one made a long time ago.
How they lived to see another banner is still a mystery.
Sorry for making a rather..lackluster banner. The resources I had to make this were
very, very limited. So sorry.
Finally, they're gonna get the Silver Chaos Emerald back.



Not really exciting or interesting, but calm and relaxing--which is what I was aiming for.
I know a lot of you like action packed banners, so endure this one for me, okay?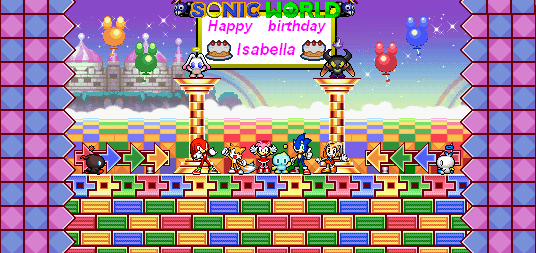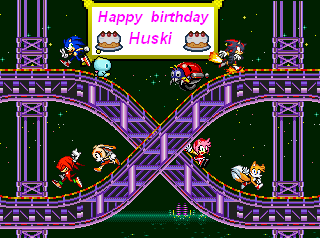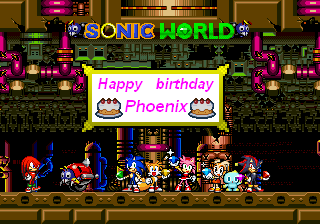 Knuckles caught him in the act this time.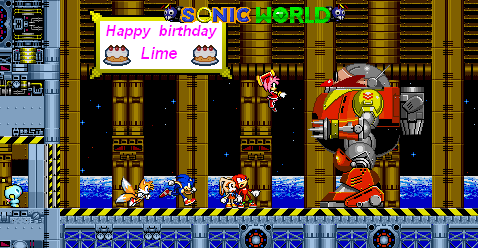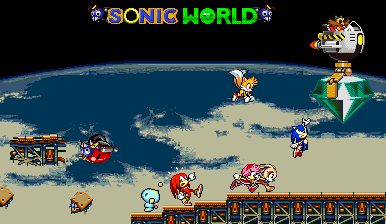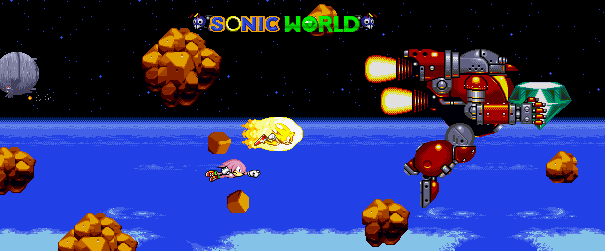 (Requested banner)
-------------------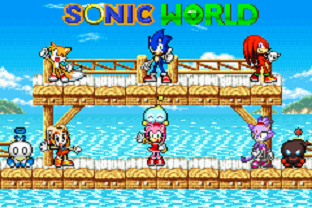 I highly doubt anyone will remember this. This was made around the time of banner number 7, I think. I made it on a different computer that wasn't the main one I use. The computer is now unusable right now, so the only way for me to find this banner at all was to dig it up in the admin panel archives of stuff I uploaded.
I have no idea what number banner this is, so I can't place it anywhere with the others directly.

April Fools Banner.