I accidentally messed up this first post. I can't remember what I said here before. Oh, well.
Splice The Hedgehog is the name of the fangame starring the fancharacter: "
Splice The Hedgehog
". The Game is currently in production. Kapus and I both are working on this game, though Kapus doesn't usually have the time to help out. Many other people have contributed to the project, which made this game possible. The game's engine is the RPGMaker 2003, and runs very similar to Final Fantasy 6. The game also features a synthesis system, a character interactive party switcher, Jumping and Ring collecting, many familiar zones, skit scenes identical to that of the Tales Of series, And even Special stages to collect the 7 Chaos Emeralds as a side quest.
Story introduction:
Splice is an orphan who lived in Green Flower City, all by himself. It starts out with him getting an ominous phone call, which leads him to go on a search to find out who his parents were. When he first starts his search, he runs into an old friend, and also finds out that Dr. Eggman is plotting to conquer the world again. So his journey splits in two, He has to find his parents, and team up with Sonic and defeat Dr. Eggman.
On his search, he finds out that a company that creates Elemental Rings, Rings that give people special powers of different elements, is strongly related to the disappearance of his father.
Character Intro:
Now, The list of characters that will be in the game are here: (
☆
Means that the Character is Completed.
☆
Means that the character has very little ways to go before completion.
☆
Means that they are waiting to be imported from a different game.)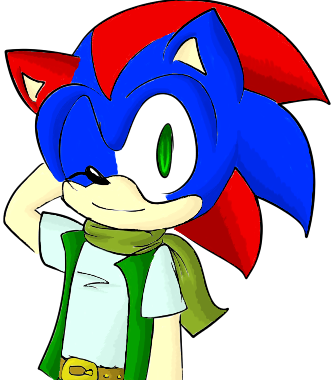 ☆Splice The Hedgehog
: An orphan who can use the power of Fire and Ice, and also has super speed. He is the main character of the game. Just about all of his skills are fire and/or ice based.
Sonic the Hedgehog
: Sonic is the world's fastest hedgehog, with only very few people rivaling him. Splice joins him to help put an end to Dr. Eggman's plans. Most of his skills are melee attacks, but he has a few supporting moves.
Miles Prower
: Better known as Tails. Tails has always been by Sonic's side since Sonic 2. In his more recent days, however, he's more focused on mechanical needs, rather than running around with Sonic. He has various support skills and a few melee attacks.
Knuckles The Echidna
: Knuckles is the guardian of the Master Emerald on Angel Island. He knows Angel Island better than anybody else. He is rather naive and gullible, which leads to him often being fooled by Dr. Eggman. His skills are all melee attacks.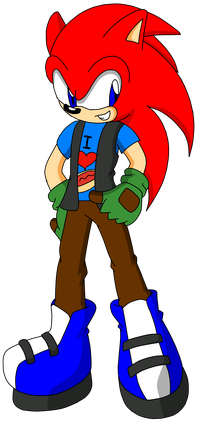 ☆
Speedy The Hedgehog
: One of the few hedgehogs that rivals Sonic in Speed. Like Splice, He has power over Fire, but not Ice. Although he can swim, Speedy is very weary of water, for it weakens him. Speedy's skills are fire based, mainly. He has a few non-elemental melee attacks and a few supporting skills. He also taught Violet how to use 'Endless Bash'.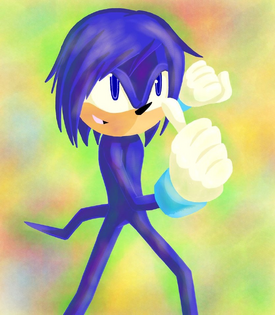 ☆Smash the Echidna
: Smash is a fighter at a famous arena at the edge of Green Flower City. He trains excessively every day, trying to get stronger. All of his skills are melee attacks, except for 3, which boost his power.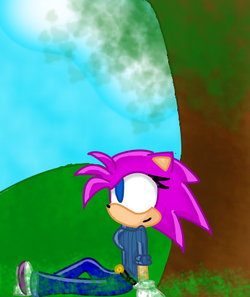 ☆
Violet The Hedgehog
: A hedgehog around the same age as Speedy. Violet has been training a lot to prove herself useful to Speedy, (Or as others might say, to impress Speedy) And has been taking fighting lessons from Smash, and also learned Endless Bash from Speedy, not knowing what she had in mind. Violet's skills are mostly other characters melee/support skills. She has a few of her own, but her mixed skills makes her a unique character.

((Don't have the non-sprited version yet.))
Lily The Hedgehog
: A wacky and silly girl living in Green Flower City. A strange one indeed; She can be quite the troublemaker. But she doesn't even seem to notice.
Hyper The Hedgehog
: Hyper is a 16 year old hedgehog who has elemental powers, which originated from a horrible incident when he was a child. A very quiet and rather meek person. Not very social, but he's a good
person at heart. He is also concerned about Eggman's conquest.
☆Frost
: Frost is a galaxy soldier from a different galaxy. He used to be pretty goofy and devious as a child, but past hardships made him serious and a bit more hotheaded. He is easily disguisted. Frost's skills are split into two: Swordskill and Power Star. The Power Star can either go to him or his twin brother, Icicle. Swordskills are mostly melee attacks, and some elemental attacks. He only has 2 support skills with this. As for the Power Star, can heal, protect, revive, and attack in battle, and can also detect things on the world map.
(Frost is a fancharacter from the Kirby series. He has nothing to do with the main plot and is an optional character. I didn't want a Kirby character to have an important role in a Sonic game, but if you do get him he will have a piece of the action.)
Icicle
: Icicle is Frost's twin brother, and a devious prankster. He pretty much lives for pranking people. His skills, however, are much similar to that of Frost's, but he has a few of his own.
(He is the same as Frost. He doesn't have a main role, but if you get him he will help out.)
((Don't have the non-sprited version yet.))
Shade The Dark Chao
: Shade is a dark chao who likes mischief. He is sometimes Evil, and some times good. Its safe to say that he's neutral. Shade isn't trustworthy, and doesn't like people. Shade is mean, selfish, rude, and quick to blame others. Once you get on his good end, you will be almost fine. Shade is even rude to his friends. Although you never see it, Shade has a very small soft side to him. (Personal skills are unknown)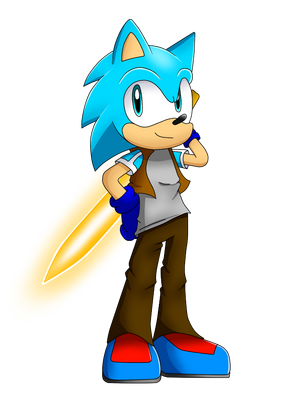 ☆
Kyle The Hedgehog
: The guardian of the village of Tillia and the wielder of the legendary Gemblade. Kyle took on the job of being the guardian just a few years ago, in place of his father. He now lives an almost peaceful life with his mother and sister in his home. His skills are also split in two. Sword Skill, and Magic Sword. He is one the only characters who can use magic.
Crystal The Fox
: Crystal is a little girl with a heart of gold. She tags along with Splice because she wants to help him find his parents. She has a pet chao named Krysi, who is more like a sister to her. Her skills are only for support, whether she powers up an ally, protects them, or heals them. She can also cure various status effects.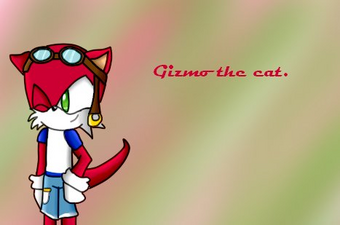 ☆
Gizmo The Cat
: Gizmo is a young boy who specializes in mechanics. He spends most of his days inside of his garage, trying to create new gadgets. Although his friends mostly come to him when they need to borrow something, he finally got a chance to go on another big adventure with Splice, and is determined to prove to everyone just how useful he can be! His skills mostly affect abnormal status on enemies. He also has a wide variety of weapons, that he mostly relies on.
☆
Kitty The Cat Chao
: Kitty is Gizmo's best friend and also the prince of the Cat Chao colony. He tries to learn from Gizmo the best he can so he can build stuff just like him. He made himself his own mini lab in Gizmo's garage, but to Gizmo himself, its as small as a closet. Kitty only has 2 skills: Dash and Chao rush. He may appear to be pretty worthless in the beginning of the game, but if you find Chao Scrolls for him, he proves to be pretty useful. When not in the party, Gizmo can summon him to either use Dash on an enemy, or join the party. It won't work, though, if Kitty is in the party or if he is preoccupied in the story.
Pearl The Echidna
: Pearl is Smash's little sister. She occasionally trains with him, so she knows most of his skills and secrets. There is very little difference between the fighting style's of Pearl and Smash.
☆
Tab The Cat
: A rather quiet but loyal companion of the gang. Tab is the one everyone looks up to for the logical ways to go, aside from Smash. She keeps everything going smoothly.
Guest Appearances
: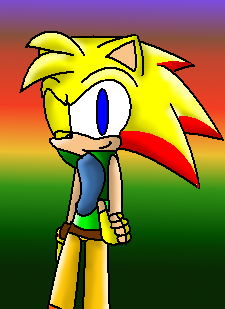 Daz The Hedgehog
: Daz is a multicolored hedgehog, like Splice, who has the power of lightning. When he gets angry, his lightning powers turn to fire. Daz has been fooled by Dr. Eggman's slick tongue, and is out to kill Splice because he thinks that he's a threat to the world. His attacks are mostly melee and Lightning attacks. He has a break-dance like fighting style like Sonic and Speedy, and also stole a good supply of mini bombs from Eggman.
Cymbeline The Hedgehog
: Cymbeline is half hedgehog, half angel, a race that was thought to have gone extinct long ago. She hides her wings to try and fit in with the public. She isn't quite familiar with the world of Mobius, resulting in being fascinated with the differences of the two worlds.
(Note: This list was copied from a different site. If you notice any mistakes, please let me know so I can fix it. I tried to get through all of them.)
Well, that about sums it up. There's gonna be a lot of characters, Some are optional though. Next, I should post up links to the videos I made: Oldest to Newest.
Video List:
https://www.youtube.com/watch?v=3AU8tsxnkpo
Splice's Skills. This was made before I finished him.
https://www.youtube.com/watch?v=CayJrPyFfsA
Gizmo and Kitty's Skills part 1. I don't have an actual Title Screen ready. The place that they are in is a test map so I can test the battle's and stuff. Although I can do it in the Database, I had many items that I needed to test at the time.
https://www.youtube.com/watch?v=bDJ4atoe8C4
Gizmo and Kitty's Skills part 2. Gizmo is actually just about finished, Two Tails has two more skills planned out for him. I hope you all don't mind Splice and Smash showing off their new skills in the process. XD
https://www.youtube.com/watch?v=Gh79rX4Hb08
Smash Suicide. This is a joke video I made while messing around with the RPG maker. I found it odd that if you kill yourself, your death animation loops. Anyway, feel free to laugh. Although this has nothing to do with the games progress, you'll notice Speedy and Violet standing there getting killed. Consider that a sneak peak at what they look like in the game. XD
https://www.youtube.com/watch?v=h8v0Xtqd4iM
Completed Characters Part 1. This is a video of the latest completed characters. Kyle, Keela, Speedy and Violet. Once Again, Eggman is the target. I had forgotten to show you what Second Chance does for Violet.
https://www.youtube.com/watch?v=AyDh-FDJKbM

Completed Characters Part 2. This is the second part, mainly showing all of Kyle's Magic Sword skills.
https://www.youtube.com/watch?v=0AY1eKZCjXU
This is how far I've gotten with Daz and Cymbeline, but I have gotten a bit further since then. They are not finished as you probably already can tell.
https://www.youtube.com/watch?v=tGX_9cxhC4A
This is the Egg Commando Boss that I plan to have appear in the game.
https://www.youtube.com/watch?v=7g2rfIBiyq8
This shows how the character select system will work.
https://www.youtube.com/watch?v=8ysT4cnG2IQ
These are the results to a test I conducted recently. It was a success and will now be used in the game.
https://www.youtube.com/watch?v=NclhmEffUM8
A rather offtopic video. But its still entertaining.
https://www.youtube.com/watch?v=r5TmDtA-xPI
Part of the soundtrack from the game. Violet's theme song. Remixed by Daz The Hedgehog
https://www.youtube.com/watch?v=ZcpN2IXrmvE
Another part of the soundtrack of the game. This is the theme that plays in Splice's home. Also remixed by Daz.
https://www.youtube.com/watch?v=J_5mcF4xyko
Yet, Another part of the soundtrack of the game. This is a remix made by Daz, mixed with the original music. The results were a masterpiece.